Bank anywhere, anytime!
03/16/2020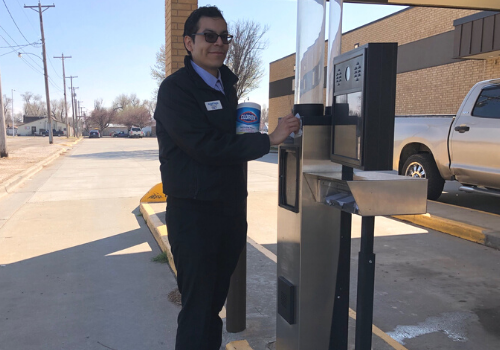 As our community prepares for the coronavirus, Bank of the Panhandle is closely monitoring the situation. Our goal during this time is to protect our team and customers while still doing everything we can to take care of our customers and their financial needs.
At this time, the Bank will remain open and observe regular hours. Our lobby and drive-thru are opened from 7:30 a.m. -5:30 p.m. Monday through Friday, and our drive-thru is also opened 8:30 a.m. -12:00 p.m. on Saturday. We have increased cleaning at workstations, drive-thru equipment, ATMs, and other public spaces. For those who prefer not to visit public spaces at this time, we have many options that will allow you bank anywhere, at anytime. Those options are:
Mobile deposit – our smartphone app, which you can find in the App Store or Google Play by searching "mybopbank," allows for mobile deposits. If you make a deposit before 4:00 p.m., the deposit will be posted same day. If you have not yet turned on this feature, give us a call at 580-338-2593 and ask for a personal banker. They will be happy to help you get this feature up and running.
Mail-Ins – If you would like mail in envelopes, just let us know. We can drop them in the mail to you, or we can send them out to you through the drive-thru. Call us at 580-338-2593.

Night Drop – The night drop is opened to everybody, but if you have commercial bags that you would like to leave in the night drop, you can request a key to the larger drawer. Call us at 580-338-2593.

Drive-thru – Our drive-thru will remain open.

Online Account Opening – We have just launched a feature on our revamped website that offers online account opening. If you are wanting to open an account, but don't want to come inside, hop online and you can open it there! Check it out here - https://www.mybopbank.com/personal/personal-checking/compare-accounts.html

Internet Banking – Our internet banking allows for you to transfer money, check balances, pull up statements, and use bill pay or peer to peer (P2P) ach's. These both allow you to pay bills or friends without writing checks and putting them in the mail. If you would like to start using our bill pay feature, give our personal bankers a call at 580-338-2593, and they will be happy to turn it on for you.
Commercial Businesses – If you need assistance with transporting change orders, please let us know and we will do everything we can to help accommodate you. We understand staffing may be short in the weeks to come.
I will continue to provide updates as they become available. We appreciate you and your business. If you have any questions, please don't hesitate to contact me. You can reach me on my cell phone at 806-316-1177 by phone or by text, or you can reach our team at 580-338-2593 during banking hours.
Sincerely,
Sally Hawkins, President/CEO
View all posts