Money Matters in the time of COVID-19
04/17/2020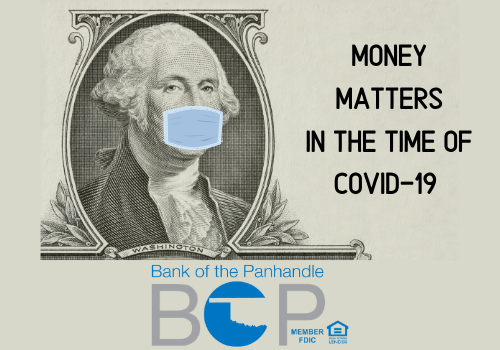 In January, I committed to writing a monthly blog for our website. I thought I would talk about the usual "hot" topics of community banking – financial privacy, elder abuse, buying your first home, and teaching kids about money.
But then, there was a global pandemic, a forced economic shutdown and corresponding quarantine, a 34% drop in the United States equities market, two interest rate cuts by the FOMC in a matter of 13 days (but who's counting, really?) that brought the Federal Reserve interest rate to zero, the CARES Act, the Paycheck Protection Program, stimulus checks, the end of travel for the foreseeable future, and a heroic call for parents to work remotely while simultaneously homeschooling their children.
And while I could nerd out and talk about any of these topics ad nauseam, I thought I would give a top five summary of the financial things that impact you, your family, and our community. For those of you who speed read like I do, I put key words in bold. You're welcome.
The Paycheck Protection Program, PPP, is a roughly $350 billion program passed by Congress as part of the CARES Act, rolled out by the combined efforts of the US Treasury and Small Business Association, and designed to offer – you guessed it – paycheck protection to people living and working in the United States. I mention this first because like most community banks, our team has been eating, sleeping, and breathing Paycheck Protection for the past 15 days.

Small businesses qualify for the loans, and if they jump through the right hoops, the government is promising to forgive the loan – meaning the loan won't have to be repaid. What does this mean? Every loan that is forgiven by the government will be an injection of cash into our local economy.
I don't know the true impact to Texas County, but I will try to come up with some numbers and report back. I feel like I can conservatively say there is at least $10 million dollars coming to our small businesses through this program. These loans will make a huge economic impact on our town and our county.
Current status: all $350 billion dollars have been vouched for in about 13 days, but Congress is talking about adding more money to the pot. If this happens, expect it to go quickly, too.

The CARES Act: This is a brief, 800-page bill that proves in times of complete crisis, Congress can work together to pass legislation. This Act does all sorts of things, but most notably it:

Created the Paycheck Protection Program (see above)
Created stimulus payments for some taxpayers. Payments started coming in this week, and basically, you receive $1,200 if single, $2,400 if a couple, and $500 per child. That is unless you make over $75,000 as an individual or over $150,000 as a couple. If you make over those amounts your stimulus payment is reduced until you hit $198,000 for a couple. If you fall into the top bucket then you're phased out – so don't hold your breath for these payments, because you will die waiting. Are you wondering where your payment is? Head here for help: https://www.irs.gov/coronavirus/economic-impact-payments.
Extended unemployment periods and increased unemployment payments.
Deferred some federal student loan payments until September 30, 2020, and of special importance, interest will not accrue during deferral. This means if you qualify, you don't have to make your monthly student loan payment until October, and when you do start paying, you will just pick up where you left off without a mound of interest to whittle away on.
Established specific pay that businesses are required to provide for those who are infected with Covid-19 or those who have to care for family that are infected. If the pay is classified correctly, the business will receive a credit from the government for what they paid to their employee.
Changed retirement accounts. For IRA's, you have until July 15th to make your 2019 IRA contribution, you don't have to take your required minimum distribution for 2020, and you are now able to borrow from your Traditional IRA in certain situations. You may also be able to take a distribution or loan from your 401k in some situations.

The Federal Reserve interest rate was cut to zero. This interest rate really establishes how much it costs banks to borrow overnight money. The Fed cut rates on March 3rd by 0.50%, and again on March 16th by 1.00%. This made their overnight interest rate zero. What does this mean for you? It means that CD rates dropped dramatically and interest rates on loans will be lower than they have been in several years.
The secondary market mortgage rates have also decreased, which means people are lined up to refinance their homes. Rates had fallen below three percent, but a quick search indicated most home loan rates are in the 3-4 percent range currently. These second market rates will ebb and flow based on supply and demand. Do you think you might want to refinance your home? There are some things you might want to consider before you make this decision – give us a call if you want to talk about what decision is right for you and your family.
Speaking of home loans, what if you can't pay your mortgage or other loans? The most reasonable suggestion is to talk to your lender. Most banks are offering some interest-only or deferment periods. If your home loan has been sold in the secondary market, they likely offer forbearance. It's important to understand that forbearance means you may not have to make a payment for three months, but at the end of the three months, the three payments plus the current payment (four payments) are due. Generally, during forbearance you cannot make any payment or it ends the forbearance period. If that happens, any payments not made up until that point are due immediately. Please make sure you understand your options before you enter into any loan modifications. If you have questions, I'm happy to take a look at them with you.
And one bonus thought. It's not a financial thing, but it may be the most important thing of all. Even in the midst of utter chaos and uncertainty and fear, kindness and grace prevail. We have talked to hundreds of people over the last two weeks, and I am overwhelmed by how incredible our community is. People have been understanding and grateful even though, at least with paycheck protection, the government is developing the rules as we go. And a special shout out to our local accountants – they have shown up big for their clients and for the local banks in this paycheck protection process. When you see them, and at an appropriate social distance, give them a virtual hug or an air high-five. We have also needed some supplies to protect our team, and our local businesses have bent over backwards to help us get what we need. We are grateful for the local love we have received. Our customers and friends and small businesses have provided us meals and offered encouraging words, knowing that we have had many long hours over the past few weeks helping our community get signed up for paycheck protection. Our team has had a great attitude and has stepped up to take care of each other and of our community. A little kindness and grace go a long way, and we are lucky to be surrounded by people who believe the best in each other and are committed to working through this together.
The chairman of our board, Steve Baggerly, recently reminded our team that when everything goes right, you don't really learn much. Although I know we are all looking forward to calmer days and hope to see them soon, 2020 is shaping up to be a growth year – for the adults as we navigate the terrain of quarantine and for the kids who are learning to "carry the one" from their new math teachers. If you need anything during this time, please don't hesitate to call, text, or email me. Stay safe,
Sally Hawkins
806.316.1177
View all posts