PPP Uncertainty Continues
06/11/2020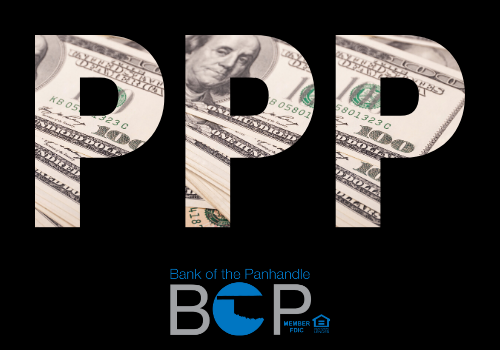 Some days, it feels like we have been eating, breathing, and sleeping the SBA and PPP loans since the end of March when Congress passed The CARES Act. We are lucky this tool has allowed us to bring millions of dollars of federal funding into our local community, but jumping through the government hoops does at times feel a little like trying to nail Jell-O to the wall.
I was originally planning to post in May about PPP (Payroll Protection Program) forgiveness, but about the time I get a blog post written, the game changes and I'm reluctant to post outdated information. Now it's the second week of June, many borrowers have been through their eight weeks and are looking for guidance, and what we can tell you is the guidance we have as of today.
The community bank advocacy groups have been working for relief on some of the original PPP rules, and our friends in Washington, D.C. finally heard their pleas. Late last week, Congress passed and President Trump signed a law that changes the PPP rules one more time. I will highlight those changes, but we are (surprise) still waiting on guidance to fully understand how those changes will be implemented.
While many people are trumpeting this as a much more flexible act that will ensure forgiveness for more borrowers, we're hopeful but still on the fence. What we have learned with PPP, though, is that things are not always what they seem. The following interpretation is based on our understanding of the act as of June 10, 2020, but it may quickly become outdated.
The new act, the PPP Flexibility Act, does the following:
No additional funding. You still get the 2.5 months worth of funding, but they are extending the time period over which you can receive forgiveness.
The act reduces the percentage of the funding that must be used for payroll. In the original act, you had to use 75% of the PPP funding for payroll. Under the new act, you must have 60% of your expenses from payroll. There isn't much guidance on whether you get to pick which version of the law applies to you, so we are hoping SBA will clear that up shortly. As a reminder, the "non-payroll" expenses that qualify for forgiveness are rent, utilities, mortgage interest, and interest on loans.

The act increases the forgiveness period from 8 weeks to 24 weeks. This is potentially awesome if you need a full 24 weeks. But, if you only need one more week, you have to choose 8 weeks OR 24 weeks. You don't get to elect a 10-week option. What that means is that if you choose the extended pay period, and you are paying employees that you cannot afford to pay without the PPP, you are committing to keep them on the payroll for the full 24 weeks.

The rehire period is extended from June 30, 2020 to December 31, 2020. As a reminder, under the original act, a condition of forgiveness is to have the same number of employees that you had on February 15, 2020, at the end of the rehire period. Again, this can be a really good thing to give businesses extra time to get back their FTE (full-time equivalent) count if they had to lay people off during the virus. But, for those who aren't sure they will be able to operate at their pre-virus levels before December (and as a result may not need as many employees), the June 30, 2020, deadline might be a better target to aim for.

There is a new forgiveness application in the works to replace the "old" forgiveness application which was issued May 15, 2020. The old forgiveness plan is a convoluted 11-page form. We are hopeful that the new plan and form will be more user-friendly.
A lot of people have asked us when borrowers have to get their documentation into their Bank so that the Bank can process forgiveness. The truth is, we're waiting on additional guidance, but from what we can tell, there is no specific deadline for the borrower to submit a forgiveness application. Some people think under the original rule 10/31/20 was the latest a borrower could apply to forgiveness through their Bank, but the SBA has not issued that in official guidance. However, once the application is submitted, the Bank has 60 days to review it and submit it to SBA, and SBA has 90 days to grant forgiveness. In all, that means it can take roughly 5 months from the time the forgiveness application is submitted by the borrower to the Bank for the borrower to know if they are definitely forgiven. However, as of today, Banks have no way to submit the forgiveness application to SBA even if we wanted to.
If you are ready to begin the process of forgiveness, we are encouraging our borrowers to bring us the things we know we will need to help you. While borrowers can get started on the original forgiveness form, we are inclined to hang tight and see what the second forgiveness form looks like. We know we will need: (1) payroll documentation for the original calculation period (generally, 1/1/19 through 12/31/19 OR 1/1/20 through 2/15/20), (2) payroll documentation for the 8 week period from the date the loan was issued, and (3) non-payroll expenses that qualify for forgiveness.
There are some things that we are still hoping for on forgiveness, like a blanket forgiveness for loans under a certain amount (lobbyists are aiming for $1 million, but we would be happy with $250,000). The SBA has roughly 4.5 million loans that they are going to have to process through forgiveness, and short of single-handedly putting a dent in our unemployment numbers by hiring a chunk of the 19 million unemployed Americans, we think it's unlikely the SBA has the resources to timely (and thoroughly) process all of those forgiveness applications.
I wish this information was written in stone and that we were able to guarantee forgiveness for all of our borrowers. At least today, it's not. However, we are committed to walking through this process with our borrowers and our community, and to doing everything we can to help ensure our borrowers receive forgiveness on these loans.
If you have questions about PPP or forgiveness or the local economy, feel free to reach out to me directly at 806-316-1177. In the meantime, if you are confused about PPP, please know that you aren't alone.
Sally Hawkins
View all posts