Peace of Mind
10/22/2020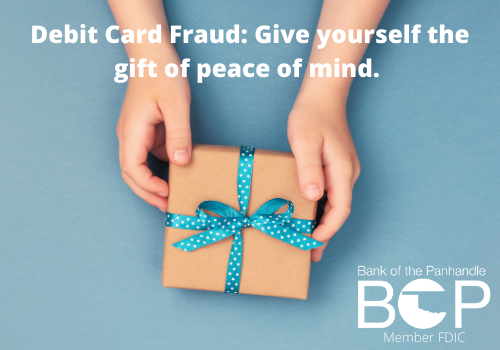 The end of 2020 is in sight, and if you are anything like my family, you're going to welcome 2021 with arms wide open. That being said, I have found myself hoping that the last few months of the year might somehow magically help 2020 redeem itself. I mean, if ever there was a time for magic, it's the holiday season, right?
Besides magic, another thing we see every holiday season is an uptick in debit card fraud, and it can definitely ruin your holiday cheer. But, if you will give yourself five to ten minutes, you can give yourself the gift of peace of mind by protecting your debit card.
We have recently partnered with an app called My Card Rules so that customers can customize their debit card preferences. You can download it in the app store, and it allows you to set controls and alerts for you and your family's debit cards.
There are a lot of bells and whistles that this app offers, from shutting off your card when you are not using it to setting up monthly spending limits. This gives you the ability to protect yourself from holiday fraud . . . or from a spouse's impulse purchases, if you're brave enough to try that.
Download the app MyCardRules in your app store; here is what the app looks like:
Once the app is downloaded, open it. When you open it, you will have an option to login or register as a New User.
Select New User. This will lead you through several steps, starting with entering your debit card number. Then, you will enter the CVV code from the back of your card along with your expiration date. Next, you'll enter your zip code. Then, you'll set up a user id, password, and enter your name.
After that, you will review and approve the terms and conditions and privacy policy. Once those are completed, you will receive a notice that you're registered and ready to log in. The screens for the steps required to register look like this:
You will then need to log in with your new password, and you will be brought to this screen. Then, select your card. From this screen, you can add additional cards (by swiping left on the debit card image), turn your card off and on, set your control and alert preferences, review recent transactions, or add shared card users.
If you want to ensure you will not be a debit card fraud victim, you can turn your card off when you are not using it, and turn it back on when you need to make a purchase (Card Off/On option right below the image of the card). Your card will not work unless it is turned on. This also means you need to have your phone or this app available to you anytime you need to use your card so that you can turn the card on.
While this may be the safest option, it won't be the best option for everybody. That's why there are many other options so you can find the best option for you.
For control preferences, there are location, merchant, transaction, and spending controls. You have the ability to lock down how and where your card can be used, or you can put a limit on how much money can be spent on your card per transaction or per month.
The control limits are a great feature to help protect your card or to help you control your own spending, or to help control and monitor a child's spending. You can add your child's debit card to your MyCardRules, and you can set different controls on each card based on how that card is being used. Screenshots for the control pages are below.
You can also set alert preferences for your debit cards. I prefer to receive a notification for every transaction on my debit card so that I know immediately if there is a charge I didn't do. That allows me to turn the card off (through the app) or call the bank and get the debit card flagged for fraud.
If you don't want a notification for every transaction, you can select when you want to be notified of a transaction, and then you will receive a text message only for the alerts you have selected.
Congratulations, you've taken control of your debit card! If you completed your set up (and if you didn't, you definitely should!), you have taken a huge step towards protecting yourself and your family from debit card fraud. If you have questions on how to set up your card or which controls would be best for you, please don't hesitate to call (580-338-2593) or come by the bank and talk to one of our team members. I'm also always available for questions or help on my cell at 806-316-1177.
Thanks,
Sally Hawkins
View all posts