Quick Tips: Scam Prevention
11/17/2020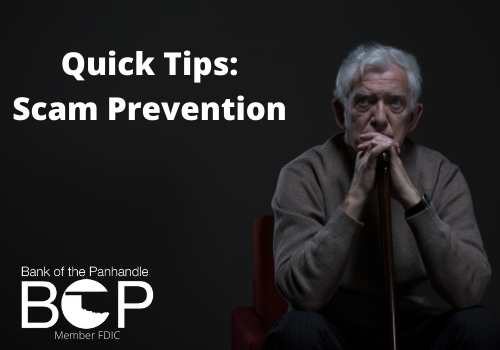 Quick Tips: Scam Prevention
Look, I get it. Scams are not a super sexy topic, but this Covid Holiday Season it's the most important thing I can talk about. So, stick with me for a few minutes; I'll make this as brief as I can. It could be the most important gift you can give a loved one.
Helping people who have been scammed is one of the most heartbreaking things we do at the bank. This post is for those of you that know, love, and care about someone who could be at risk.
While anybody can be a victim of scams, people most at risk for scams are those over 80 and living alone. Other people at risk are those who live away from family, are living alone, or are starting to exhibit memory issues. Studies show that the older the individual, the higher the loss. Women are twice as likely to be victims as men. We also know that people are often so ashamed of what happened that they never report their loss or tell a loved one what happened. Projections suggest that victims lose billions of dollars each year to scams.
Despite that uplifting information, don't despair. There are some easy ways that you can protect yourself and your loved ones from scams. Below are tips and some of the more common scams that we see.
TIPS
Here are some tips that can help you or a loved one keep your money in your account and out of the hands of scammers.
Stay in touch. People are social by nature. Check in regularly and encourage your loved one to stay socially connected with others. This may be through church, a bridge club, a job, or a neighbor. When people are lonely they are more likely to get into conversations with scammers.
Talk to your loved one about fraud and about some of the tactics scammers use to defraud people. Knowledge is power.

Never give out financial information over the phone.
No reputable service will ever require you to pay them with prepaid money cards.
Nobody legitimate will threaten you if you tell your bank or family what is going on.
If it seems too good to be true, it probably is.
Ask your bank or call a loved one if something doesn't feel good to you!

Check credit at www.annualcreditreport.com. I recommend people check their credit at least once a year to make sure there is no identity theft – you should check it more often if you have been scammed.
Locate and keep safe important documents like wills, bank statements, tax returns, life insurance policies and other investment documents. Talk to and develop a plan for your loved one's financial care.
Get your loved one on the Do Not Call List at www.donotcall.gov. You can use this for both mobile and land lines.
SCAMS
There are a handful of scams that we see over and over. Con-artists are very effective at using information that you provide them and using it to convince you they are legitimate.
Lottery Scam: You have won the New York Lottery! You just need to send them the taxes on your winnings so that you can get your check from them.

You have never even lived in New York. You did not win the New York Lottery. Your deceased husband is deceased and he could not win the New York Lottery. He is not sending you a gift from the afterlife.
We once had a customer who "inherited" a Lambourghini distribution center in Europe. She only had to send the tax money. She paid the taxes, but she's still waiting to get her distribution center. It's been ten years.
Do not send money to people you do not know.

Sweetheart Scam: You have a call from a long-lost sweetheart, or you meet a new sweetheart online. They convince you that you are in love, and they swindle you out of your money. They may want travel money to come see you, or they may need money from you to help a friend or family member. They promise to pay you back.

If you are online dating, keep your family in the loop as to what's happening. Try to be realistic about the relationship.

Grandaughter/Grandson Scam: You get a call early in the morning or late at night from someone young. They immediately say "Grandmother!" You are disoriented because you've been asleep, and your immediate response is to name one of your grandchildren. They latch on to the name, and they pretend to be your grandchild. They tell you they went to Miami for Spring Break, and they have been in an accident. They are at the police station, and they need money in order to get out. They don't want their parents to know, so they are asking you for money.

When you get off of the phone, stop and call your grandchild's real number. If they are in prison, they will not be able to answer their phone. So far, 100% of the time I have had a grandparent call a grandchild in the middle of this scam, the grandchild has answered their phone.
In the alternative, call their parents, who will probably know if their child did go away for Spring Break. If the situation is so dire that you have to send money, their parents should know what is going on.

Computer Upgrade: you receive a call that your computer needs to have new software installed. They need you to pay $500 to do this. They want you to come to the bank, take out cash, and go get a prepaid money card. Then, they want you to scratch off the back and give them the numbers on the card. Your money is gone, and you have given them access to your computer. Only, once they put on the "update," they realize there are still some "holes" in your system – it will be another $500 to fix those. This game keeps on going until your loved one is broke or quits.

Microsoft will NEVER call you and ask to install software on your computer. Neither will any other reputable software or anti-virus software company.
These people will access your internet banking and manufacture false statements. Sometimes, they will tell you that they are wiring money into your account. They aren't. They are, however, getting access to all of your personal information.

Home Improvements: People traveling will stop at your house and offer to repair shingles, remove dead limbs, etc. They will overcharge you or take the money up front and never start the project.

Use local contractors. The local lumber stores likely have a list of people that can help you with your repairs.
Always get references (and check them) if you aren't familiar with someone offering to do work at your house.
Never pay everything up-front.

Social Security/IRS Criminal Charge: You receive a call purporting to be Social Security or the IRS, and they have criminal charges pending against you. In order to "unlock" your social security number, you need to press one immediately.

Your social security number cannot be locked. There is no way the Social Security Administration or the Internal Revenue Service is going to call you unless you are trying to reach them. I've been on hold for hours with both services, and even then it was hard to find a human to talk to me.
If there are any legal proceedings pending against you, you will be notified by a service processor or by a law enforcement officer arresting you.
Please take a few minutes this holiday season to ensure that you are advocating for and protecting your loved ones. Whether you bank at Bank of the Panhandle or not, I will make a case for using a community bank. I am obviously biased, but I believe community banks are better at developing relationships and catching unusual activity as it happens instead of after the fact. We train our team to try to identify scams and fraud on the front side so that we can save our customers the financial and emotional pain of being defrauded.
As always, if you have any questions, please feel free to contact me at 806-316-1177.
Sally Hawkins
View all posts